Archive for the 'Podcast' Category
When I spoke to the Tennessee Air National Guard, the Colonel surprised me with a challenge coin.
A challenge coin is usually an award for excellence given out by officers in the military.
Over the years, as I have spoken to military units, I have received probably 50 challenge coins. It is an honor to have each one of them, but this coin was different.
When Colonel Smith handed me a challenge coin based on my book, The Customer Rules, I could hardly believe it.
My book is about customer service. These challenge coins will be given out to airmen who show exceptional service to people.
Colonel Smith gave me the honor of handing the coins to the first five recipients.
The value of these coins is much greater than the cost to produce them. The military has figured this out. These challenge coins are a motivator. People are proud to receive these coins. Challenge coins are a unique way to show appreciation and recognition.
What do you do to show appreciation to your employees?
Don't view tokens of appreciation as an expense. It is an investment in your employees.
Don't underestimate the value of showing appreciation to your people. Little things become the big things. Most people have not been recognized. If you find a way to show appreciation, with a coin, a pin, or a note, they will take it home and show their family.
Morning Magic Planner leads towards building a habit of showing appreciation every day. Use the planner for 30 days and you will notice a significant change in your organization.
Enter your name and email below and I will send you the Morning Magic Planner.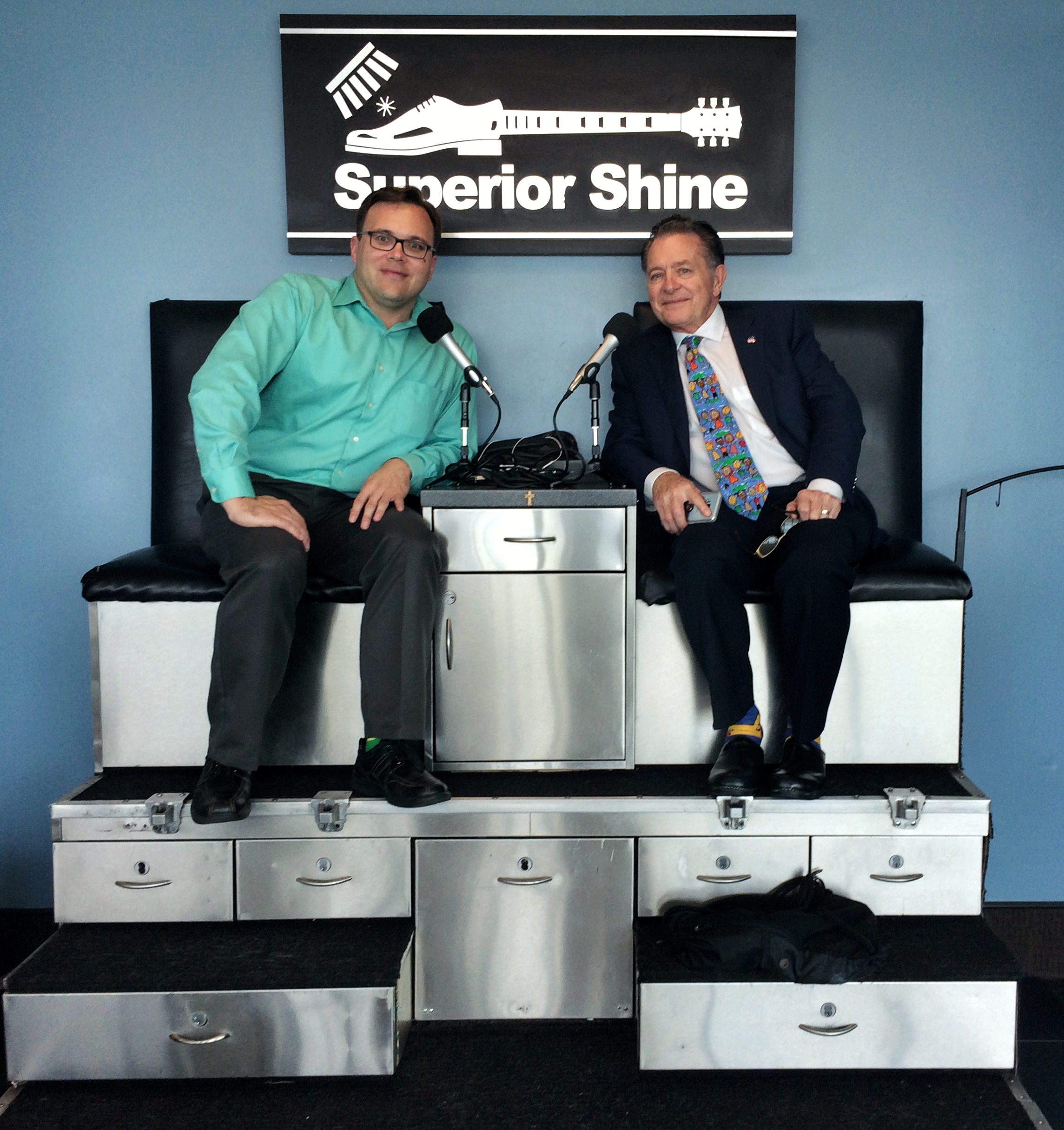 This episode of Creating Disney Magic was recorded live at the Nashville airport.
After 3 presentations in Nashville, we were waiting at the Nashville airport and took the time to record. You will like the fun, conversational feel of this episode.
While we recorded, we sat on the shoe shine bench. Sitting up there talking into microphones attracted plenty of attention for people as they passed by.
While in Nashville, we stayed at the new TRU hotel by Hilton. Our hotel sparked the conversation for this episode.
This hotel is not what you expect. Hilton is stepping out and creating a hotel with a unique environment by shifting the focus of the hotel from the rooms to the lobby.
Usually, you get a hotel with a big fancy room. This is what you have come to expect.
How can you take what people expect in your industry and rethink it?
Hilton reworked the lobby to be a gathering place. With this, they are keeping out in front of patterns and needs of customers. Consider what you can do to serve customers differently, uniquely, and in ways that serve customers better. The world is changing fast and you have to pay attention to how you can keep ahead rather than trying to catch up later.
If you want to exceed expectations through innovation you need to take what people expect and do it differently. Be curious. Look at what the competition is doing.
Have you ever been passed up for a promotion?
How did you handle it?
If you feel you have been overlooked, there are a couple of ways you can deal with it.
When you don't get a promotion can do nothing. Or you can complain to your friends and family about how unfair it is. Or, and this is what I would do, is have a talk with your supervisor. Ask what you need to do to get a promotion the next time one is available.
If you want to understand the truth, you can ask for it. But you have to be open to hear the truth if you are fortunate enough to find someone willing to be candid with you.
Next, set a date 90 days from now to make the decision to stay at the job or find a new job. If you don't feel like you are being supported, it is time to go. Continue to do a great job before you leave, but don't discover yourself stuck in a job you don't want three years from now.
In this episode, we also talk about time management. If you want to watch the first lesson of my Time Management Magic Course you can do so HERE.
You can find my Morning Magic Planner HERE.
When you start a new job, should you add your personal flavor right away? Or should you sit back and see how the new organization and staff operate?
Personally, I would not do too much at first. Before I start to add my personality and ideas to the operation there are some things I am looking for.
First, I want to understand what the issues are surrounding the new position and organization. Once I get the feel for the staff and the business, then it may be time to insert myself.
"How long should I wait?" is a question I get asked. Well, I suggest taking 90 – 120 days to observe and understand the new business.
I have seen so many people take a new job and run through the door making changes immediately. It never works. Even if you have support from the top, people do not like new people coming in and trying to make changes right away. They need to get to know you first. You need to get to know them.
You don't need to impress the boss the first day on the job. This is a long-term game. It takes patience and discipline. When you change things early, you often have to change them again because you made a mistake. Take your time and get the environment right.
Often, people ask me about time management. It is a common question because I wrote Time Management Magic, and so many people struggle with getting work done.
People are overwhelmed and are looking for an answer. This week on Creating Disney Magic, we answer a listener question better project and time management.
If you are looking for a better time management system, technology is not always about the answer.
Sure, technology can help, but rather than just keeping track of the things you need to do, wouldn't you be better off understanding how to keep your life under control?
Apps for your phone, or even a Day-Timer like I use, are just tools. They help you get to where you want to go, but you have to understand where you want to go in the first place.
If you want to get started getting your life under control, my Time Management Magic seminar is a great place to begin. You can sign up for the course here.
Donald Miller, author of Building a StoryBrand, returns as a guest on Creating Disney Magic to talk about why people are ignoring your brand.
Every piece of marketing you do should communicate how you can help people survive and thrive and do so simply so customers will not have to burn calories to process the information.
Unless your message is aimed at helping them survive and thrive, customers will ignore you.
If your marketing makes people think too much, they will ignore you.
In this episode, Don Miller breaks down how Disney applies these concepts to get loyal customers who return every year.
If you are struggling to attract customers, you do not want to miss this episode. Don Miller will explain these concepts in a way to help you clarify your message.
Get a copy of Building a StoryBrand.
Visit StoryBrand.com to find out more about Don Miller and get more StoryBrand resources.
Nobody really cares about your story. Rather than hear your story, they want to be invited into a story where they can play the hero.
Disney has excelled by inviting people into a story. But do you have to be Disney to create a story people want to be a part of?
Of course not. And Donald Miller joins Creating Disney Magic to talk about how your business can build a story around your brand.
Don's new book, Building a StoryBrand teaches you how to invite people into a story and clarify your message so customers will listen.
In this episode, Don not only breaks down the StoryBrand Process, he examines how Disney has created used the story plot idea for not just Disney World, but for individual rides within the park.
Get a copy of Building a StoryBrand HERE. Learn how your organization can use this process to invite customers into a story your brand can deliver upon.
If you missed it when I was a guest on Donald Miller's podcast, you can hear it here.
This episode we celebrate the 150th episode of Creating Disney Magic.
On this episode, we take on two listener questions. We talk about what to look for when you partner someone in business. At Disney, we were clear on what would be involved in a partnership.
The second question is along the same lines. How do you get other businesses, who are your partners, who have different missions and values, to work in alignment? Again, it comes down to clarity. Everyone needs to understand what you expect and what it looks like to meet expectations.
In both cases, the people you work with need to know how to satisfy customers. The experience should be seamless for customers.
If you have a question you would like me to answer on the show, just reach out. Answering listener questions are my favorite part of the podcast.
I recently returned from a tour through several countries including Russia, Czech Republic Austria, and Hong Kong.
It reminded me how traveling and gaining a new experience can help you serve people better.
You are never as good as you think you are. Traveling is one way to find out what other people and organizations are doing.  You will find out how good you really are and how you can get better.
When you understand how good you can be, you will raise your standards.
Experience and exposure are two things you will gain from traveling that will change your worldview and help you better serve your customers.
You don't have to travel internationally. Visit big cities. Visit new businesses. Go places where you don't know people where your eyes will be open to a new way of doing things.
Travel changes who you are. Every new experience opens your eyes.
Time Management Magic is now available as an audiobook. You can get the book here.
If you don't have a copy of the Morning Magic Planner, you can get it here.
When I was at Disney and someone would tell me they wanted more money, my answer was almost always "yes." But probably not in the way you think.
Here is how I would tell people they could get more money;
"There is always a position that pays more than the one you are in. If you want more money, become qualified for the other position.
When you can show us you are capable of performing a job that pays more, you will make more."
When I would explain it so straightforward, people would understand. Just tell people the truth.
If you want more money you have to be qualified to earn it. It is that simple.
When I worked as a Greaseman at a hotel in Lake Tahoe, I wanted more money than the $90 per week I earned. When I promoted to housekeeping a $10 per week raise came with the position. I became more qualified, moved into a different position and earned more money.
This is the formula to get more money.
Identify the job you want and focus on what it will take to get in that position. Talk to people who have the job. Find out more about the position and keep learning. Most people don't try hard enough. If you apply yourself and show you can do the work, you will get your chance. Be persistent.