Archive for the 'Podcast' Category
Building trust with your supervisor is an art. All of us, well, most of us, want to build enough trust so we get more autonomy and responsibility in our job.
If you want to build trust with your boss, you begin with results.
Bring a project forward, get approval from your supervisor, and then get good results.
When you have a track record of producing results, you will move from getting approval to being able to do the project on your own and keep your boss informed.
Sometimes you have to test it. Pick a small project and do it. Then inform your boss of the results.
Don't wait for your boss to tell you what to do. And don't maintain exactly what is expected of you. You want to perform better than simply meeting expectation.
If you ever need clarity on where the line is, ask. Have the conversation with your supervisor so you know what issues you should bring forward and what you should handle on your own.
At Disney World, we are always on the lookout for good people to become cast members. When we realized some of our best new cast members were referred by current cast members, we made a program out of it.
We had cards cast members could carry. If they ran into someone who gave great service, they could hand them a card with details about applying for a job at Disney.
This worked well because people who have a job, and are performing well at their job, are not actively looking for a job. And many people didn't think they could get a job at Disney. These referral cards took care of both of problems. Plus, cast members who brought in a certain number of referrals got to attend an awards dinner and receive recognition.
People who work at Disney help bring in the right kind of people. Your good employees want to bring in great people to keep the work environment enjoyable.
Every business ought to be ahead of the game. Get out in the community looking for the right people to fill your next opening.
Often, people ask me about how to motivate employees. My answer…you shouldn't motivate employees.
Your job is not to motivate employees. Your job is to hire the right employees and they will motivate themselves.
Hire people who want to be great. What many think is motivation is really manipulation. Do you think a pizza party or casual Friday matters to great employees?
If you want to motivate great employees, make sure you give them a safe place to work. Also provide plenty of appreciation, recognition, and encouragement. This is what helps great employees thrive.
Personally, I have a fear of failure. It drives me. I want to be successful. I want my wife, son, and grand-kids to see me as successful. If you understand what drives people, you can help them achieve it. This will be more successful than trying to motivate people.
We come to you live again from the North Idaho Leadership Summit, hosted by St. Vincent de Paul.
The audience asked questions and I answered. Again, we had a series of wonderful questions that lead to a series of candid conversations.
People asked me about picking your battles, creating a culture, diversity, and dealing with employees who aren't working out.
Throughout the questions and my answers, one theme was woven throughout…you have to stand up for what you believe in.
If you believe in a political position speak up about it. If you believe in building a strong culture you have to speak up about it. If you believe in diversity and inclusion you have to speak up about it.
Speak up so people know what you believe. Don't underestimate the impact you can have.
If you have built a good reputation you can speak up more often.
For the first time, Creating Disney Magic was recorded live in front of an audience.
St. Vincent de Paul of North Idaho hosted a leadership summit with me as the speaker. At the end of the first session, we took questions directly from the audience. When Jody asks me listener question on the podcast, I usually don't know what the question will be. But in this case, people were asking me questions directly on the spot.
Three questions are featured on this live episode. Audience members asked about overcoming challenges, dealing with negative and disruptive employees, and what inspires me.
During a recent visit to an upscale hotel, I asked the Bellman if there were a second luggage rack available for our room.
"I don't know", was all he said.
Can you imagine? Yes, you probably can because underwhelming service like that has become overwhelmingly common.
Most people will blame the bellman for having a bad attitude, or not caring. But it is not his fault.
Sure, he did have a bad attitude. And he did not care about guests of the hotel. But the responsibility is with the general manager. Some of the problem can be found in training, but most of the problem is in hiring. When you hire for skill, or simply hire to fill an empty position, you end up with a staff that doesn't care.
To deliver great service, you have to hire the right people. At Disney, I hired people to work in engineering, security, transportation, and other areas I have no skill in. But I was never hiring for skill. I was looking for motivation, attitude, and passion.
If you want to take a new approach to hiring, Carol Quinn is the person I trust. Check out her book, Don't Hire Anyone Without Me, or her website to find out more.
This episode of Creating Disney Magic was recorded in the lobby of the Coeur d'Alene Resort in Coeur d'Alene, ID. It was the perfect setting to discuss customer service.
When you are at a resort or hotel, or anywhere for that matter, and get great service, it is likely the result of training. Sure, there are other factors, like good hiring practices and personal attitude, but for the most part, great service comes from great training.
The same is true for bad service. Poor service comes from poor training.
Poor training leads to poor service. And poor service can sour a customer's experience no matter how good your product is. And if you have outstanding service, you can get away with bad carpet.
In this episode, we talk about Jeff Merhige, executive director of Camp Widjiwagan.
Jeff applied what he learned in Creating Magic to find new ways to serve better. Jeff wanted to be great, and now the Camp he runs in great. Change like this starts at the top.
Jeff made the decision to move from managing a facility to managing a culture. This is when he began to Create Magic. Now, the changes Jeff has made in himself have flowed down into employees of Camp Widjiwagan. Changes have flowed into the facilities. Changes have flowed into the experience of the campers.
You, too, can decide to be a culture manager. It begins with making the decision to be excellent.
When I spoke to the Tennessee Air National Guard, the Colonel surprised me with a challenge coin.
A challenge coin is usually an award for excellence given out by officers in the military.
Over the years, as I have spoken to military units, I have received probably 50 challenge coins. It is an honor to have each one of them, but this coin was different.
When Colonel Smith handed me a challenge coin based on my book, The Customer Rules, I could hardly believe it.
My book is about customer service. These challenge coins will be given out to airmen who show exceptional service to people.
Colonel Smith gave me the honor of handing the coins to the first five recipients.
The value of these coins is much greater than the cost to produce them. The military has figured this out. These challenge coins are a motivator. People are proud to receive these coins. Challenge coins are a unique way to show appreciation and recognition.
What do you do to show appreciation to your employees?
Don't view tokens of appreciation as an expense. It is an investment in your employees.
Don't underestimate the value of showing appreciation to your people. Little things become the big things. Most people have not been recognized. If you find a way to show appreciation, with a coin, a pin, or a note, they will take it home and show their family.
Morning Magic Planner leads towards building a habit of showing appreciation every day. Use the planner for 30 days and you will notice a significant change in your organization.
Enter your name and email below and I will send you the Morning Magic Planner.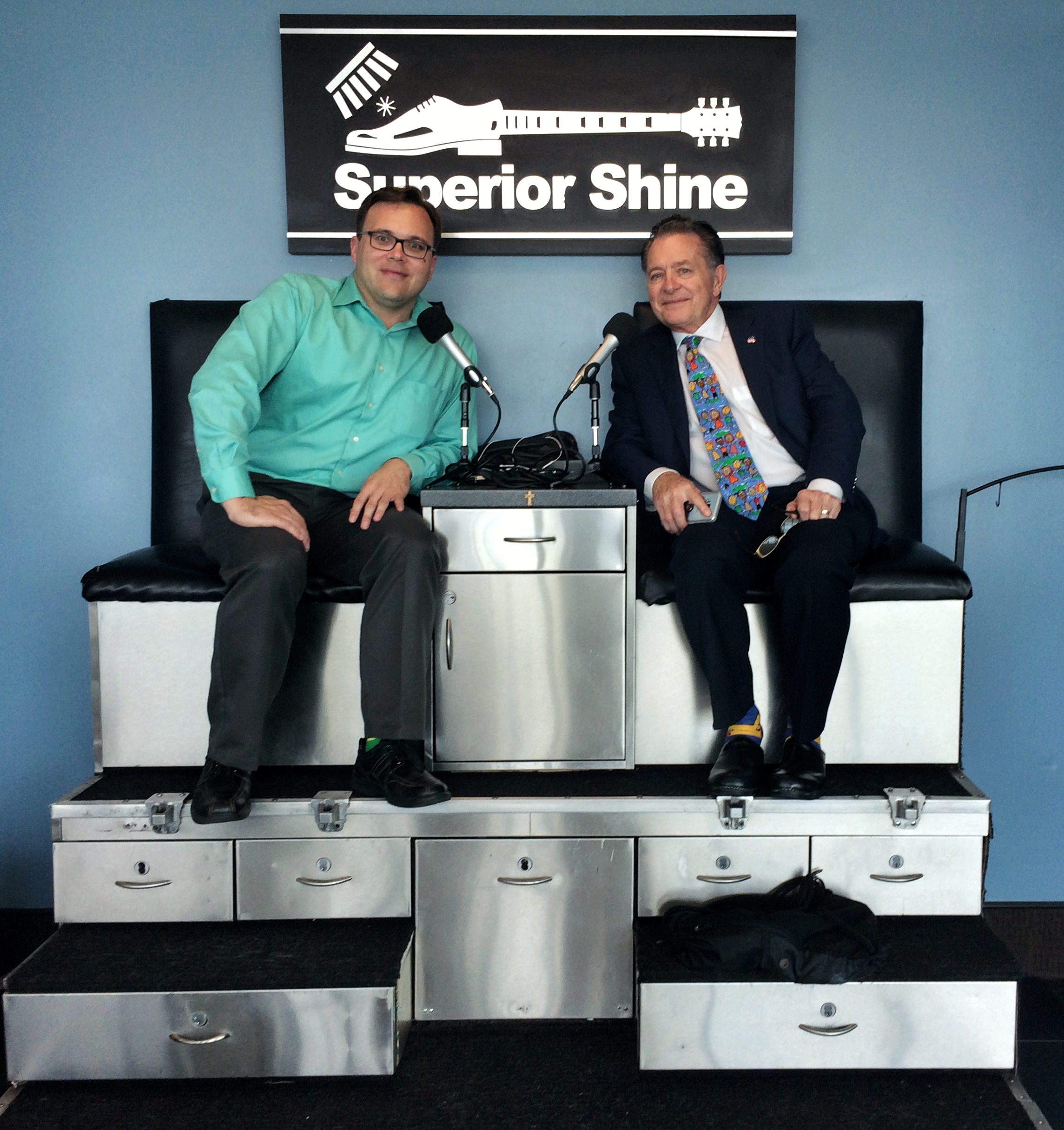 This episode of Creating Disney Magic was recorded live at the Nashville airport.
After 3 presentations in Nashville, we were waiting at the Nashville airport and took the time to record. You will like the fun, conversational feel of this episode.
While we recorded, we sat on the shoe shine bench. Sitting up there talking into microphones attracted plenty of attention for people as they passed by.
While in Nashville, we stayed at the new TRU hotel by Hilton. Our hotel sparked the conversation for this episode.
This hotel is not what you expect. Hilton is stepping out and creating a hotel with a unique environment by shifting the focus of the hotel from the rooms to the lobby.
Usually, you get a hotel with a big fancy room. This is what you have come to expect.
How can you take what people expect in your industry and rethink it?
Hilton reworked the lobby to be a gathering place. With this, they are keeping out in front of patterns and needs of customers. Consider what you can do to serve customers differently, uniquely, and in ways that serve customers better. The world is changing fast and you have to pay attention to how you can keep ahead rather than trying to catch up later.
If you want to exceed expectations through innovation you need to take what people expect and do it differently. Be curious. Look at what the competition is doing.